GHG is the only integrated healthcare provider in the region with extraordinary visibility and presence in the entire Georgian healthcare ecosystem.


Achieving synergies from our combination of business will be a key priority for the Group in the coming years. In 2018, GHG served around two million unique customers across its business lines, while the share of patients using more than one segment of our business, pharmacies and healthcare facilities, accounted for only 13%. One of our long-term growth strategies is to capitalise on the main advantage of our business model – our ability to manage customers on an integrated level. Enhancing digital channels, and developing a fully cohesive health information system, will help us manage our operations more efficiently and deliver better care to our patients and customers.

Having completed our intensive three-year capital expenditure programme, we are now focusing on improving Group's financial and operational performance, and delivering strong growth through the development of new supportive growth projects and benefiting from the organic growth of our businesses. This is clearly supported by the Georgian macro environment, growing healthcare budget and the existing low base spending on healthcare.

From the operational performance perspective, we are focusing on improving the capacity utilisation of our healthcare facilities, exercising various asset optimisation measures, such as disposal or transformation of unused and low ROIC-generating assets, driving efficiency across our healthcare facilities through service process automatisation and the full roll-out of HIS.

These, together with Group's disciplined capital allocation strategy, which mainly focuses on balance sheet deleveraging, exercising value accretive minority buyouts and allocating resources to high ROIC generating investments will help us to achieve our goal to generate double-digit revenue growth over the coming 5-years and mid-teens EBITDA growth that is expected to support a 15-17% ROIC in the medium to long term.



From a clinical perspective, we continue to grow a new generation of doctors and nurses, while building robust clinical quality management processes. Our medium-term goals remain knowledge and expertise advancement through education and professional development of our physicians and nurses. Quality assurance through the introduction and improvement of various activities and processes at a larger scale within our healthcare facilities remains a top priority for us so that we can deliver better care to our patients.
Business major growth drivers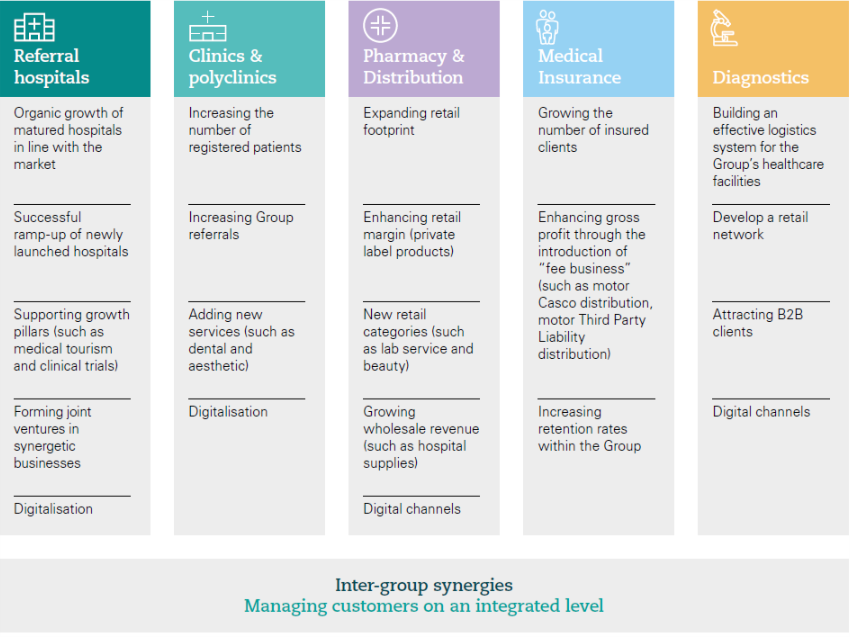 GHG and its business medium to long-term Profit and Loss statement targets