GHG is the only integrated healthcare provider in the region with extraordinary visibility and presence in the entire Georgian healthcare ecosystem.


Extracting value from this integration will be the main target for the Group in the coming years. In 2018, GHG served around two million unique customers along its business lines, while the share of the patients using more than one segments of our business, pharmacies and healthcare facilities, accounted for only 13%. One of our long-term growth strategies is to capitalise on the main advantage of our business model – ability to manage customers on an integrated level. Enhancing digital channels and developing a fully cohesive health information system, will help us manage operations more efficiently and deliver a better care to our customers.
Having completed our intensive three-year capex programme, we are now focusing on improving cash flow generation and return on invested capital by applying various efficiency measures across the Group.
From a clinical perspective, we continue to grow a new generation of doctors and nurses while building robust clinical quality management processes. Our medium-term goals remain knowledge and expertise advancement through education and professional development of our physicians and nurses. Quality assurance through introduction and improvement of various activities and processes at a larger scale within our healthcare facilities remains top priority for us, so that we can deliver better care to our patients.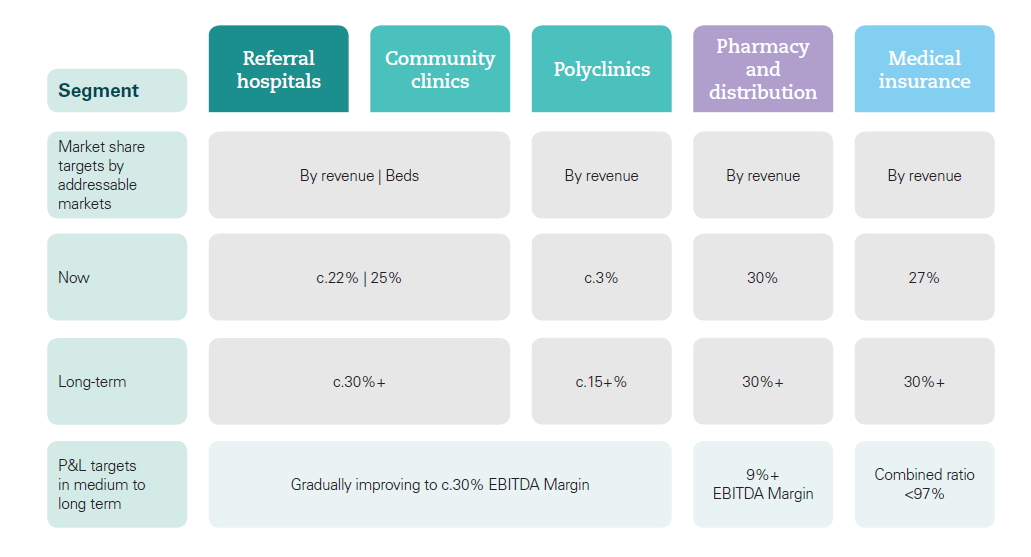 Healthcare services business
In healthcare business, our long-term growth strategy is concentrated on gaining one-third of referral hospitals and community clinics, and 15% of polyclinics markets, while trough efficency and cost control measures, gradually increasing business EBITDA margin to c.30%.
Apart from UHC, the budget of which grew by 7.1% in 2019 and is anticipated to grow within the country's nominal rate, the medium to long-term double-digit growth drivers are:

Referral hospitals
Successful roll-out of Regional Hospital and Tbilisi Referral Hospital;
strengthening existing services in elective care by adding new services in our hospitals in order to close the existing medical service gaps in Georgia and prevent local population from traveling abroad for treatment; and
developing medical tourism (please see more on the next page); and
implementation of fully integrated Hospital Information System ("HIS").
Polyclinics
Expansion of the network by adding polyclinics through new launches and strategic acquisitions, which is planned both in Tbilisi and in regions;
increasing the number of registered patients from current c.150,000 to more than c.200,000. The increased number of registered customers enhances the cross-selling opportunities within GHG's hospitals and pharmacies; and
developing new services: roll-out of dental clinics and adding other primary care services such as aesthetic care.

Pharmacy and distribution
Growth and margin enhancement is the area of focus for pharmacy and distribution business while managing its market share at around 30%+.
The business' medium to long-term double-digit growth drivers are:
Adding new pharmacies to the chain – over the next few years, we estimate to have 300 pharmacies;
increasing same store sales by optimising product mix; and
increasing wholesale revenue by signing new corporate accounts and engaging in state programmes and medical disposable and devices market.
The Group's consolidated procurement department under pharmacy and distribution business, the largest purchaser of pharmaceuticals in the country, stays focused on gaining additional discounts from manufacturers, subsequently reducing our costs of medicines and products to improve our margins. Apart from extracting procurement synergies, establishing our position as a market leader in a private label segment in the pharmacy and distribution business, increasing the number of private label medicines and personal care products, also allows us a significant margin improvement.


Medical insurance
After a successful year for our medical insurance business, we remain concentrated on the business' expansion strategy, while increasing its profitability through improved loss and combined ratios. As a feeder for our pharmacy and healthcare services businesses, the medical insurance business continues to prioritise retaining a greater number of claims within the Group.
Diagnostics (Mega Lab)
As a newly-launched business line, the segment's main goal as of now is to build effective logistics systems for the Group's chain of clinics and hospitals. In the medium to long term, we will pay special attention to developing a retail network, with around 50 blood collection points countrywide, and working on additional B2B contracts in next few years.