Georgia's healthcare services market (including hospitals, polyclinics/outpatient clinics and pharma) was estimated to be worth GEL 3.5 billion in 2017. The market has maintained a strong compound growth momentum of 14% between 2011 and 2017, and is expected to continue growing at 8% between 2018 and 2021. Since the introduction of the UHC, its budget nearly doubled from GEL 338 million in 2014 to GEL 660 million in 2017 and now accounts for 68% of all state healthcare expenditure. Elective inpatient services and emergency services constitute the major part of the UHC budget, while outpatient services have limited coverage.
The total hospital market was GEL 1.3 billion in 2017, while the addressable market (total market adjusted to exclude the revenue from specialty beds) was estimated at GEL 1.2 million. The total hospital market is forecasted to grow at a compound annual growth rate of 7% between 2017 and 2021.
The polyclinic market (outpatient market, excluding the revenue from dental and aesthetic services) was GEL 0.7 billion in 2017 and is forecasted to grow at a compound annual growth rate of 10% between 2017 and 2021.
The total pharma market was GEL 1.5 billion in 2017 and is expected to grow at a compound annual growth rate of 9% between 2017 and 2021.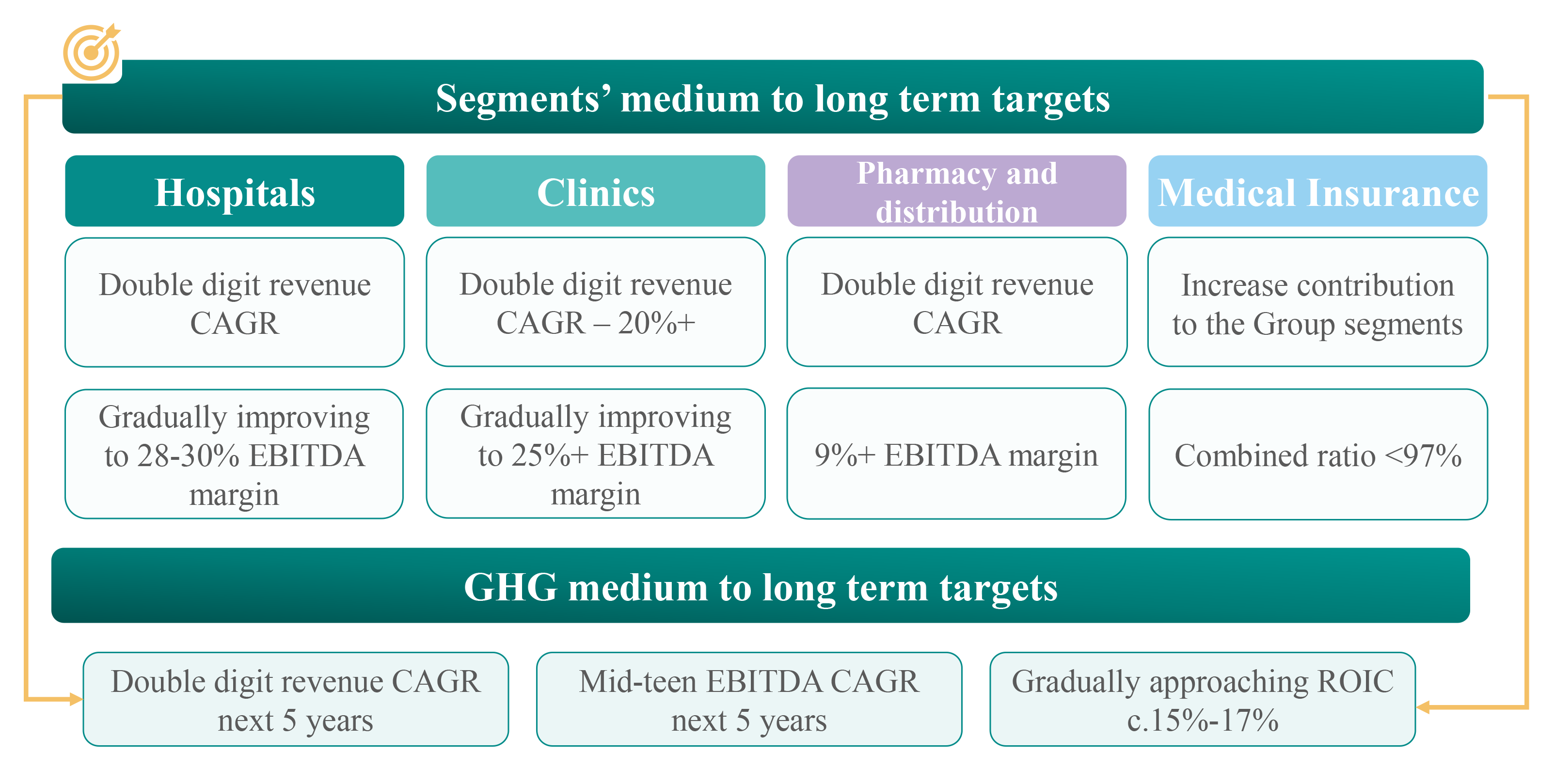 Healthcare service providers (both state and private) generate revenue from out-of-pocket payments (including fee-for-service and the UHC co-payments), transfers from state healthcare programmes and payments from private medical insurance companies. Pharma companies' revenue generation is primarily driven by out-of-pocket retail revenue of the pharmacies, together with wholesale revenues from hospitals, insurance companies and the state. Medical insurance companies depend on revenues from medical insurance policies purchased by employers for their employees and by individuals for their own use. Out-of-pocket expenditure on healthcare in Georgia still prevails over public financing and private insurance. According to the Frost & Sullivan analysis, the share of out-of-pocket expenditure in total healthcare expenditure in Georgia was 57% in 2016, the share of Government expenditure 36%, the share of private medical insurance 5%, and the remaining 2% came from other sources. While the Georgian Government is the main source of hospital service financing in the country, the total Government expenditure on health is low at c.3% of GDP, compared to the 5% benchmark set by peer countries, which leaves significant room for growth.
Healthcare service market competition
Both state and private healthcare providers (polyclinics/outpatient clinics and hospitals) compete in the Georgian market with private providers accounting for the vast majority of the country's total supply. The market is relatively fragmented, with the six largest competitors (all of which are private) accounting for only 40% of the total number of beds in the country. This may indicate further growth potential for both new and incumbent market participants through mergers and acquisitions. The outpatient clinics market is even more fragmented and no competitor controls more than a 1% market share, with the Group's own market share at c. 3% as of 31 December 2018. Therefore, it is likely that there will be further consolidation and the emergence of a large participant in the market via mergers and acquisitions.
Healthcare service gaps
Despite significant reforms to the Georgian healthcare system, a number of healthcare service gaps remain, particularly in relation to the medical equipment available and the laboratory/diagnostics services provided in Georgia. There are limited numbers of items of medical equipment such as gamma knife units (none in Georgia) and positron emission tomography computers (only one unit in Georgia). There are also shortages in Georgia of the following equipment: laparoscopic instruments, equipment for interventional endoscopy including endoscopic retrograde cholangiopancreatography, microwave tissue ablation systems, arthroscopes, choledocoscopes, muscle reinnervation systems, intraoperative ultrasound probes, vacuum machines, Flowtron mechanical compression units and pH meter units. In addition, the Georgian healthcare system suffers from limited provision of some laboratory services: there are no dedicated pathology laboratories for certain tests (samples are often sent abroad for testing); there are limited paediatric oncology services, limited rehabilitation services, limited suitable In Vitro Fertilisation ("IVF") facilities, no bone marrow transplant facilities other than GHG's and no suitable genetic or molecular laboratories.