Our business model
A fully integrated care pathway


We deliver on our commitment to providing quality healthcare services and products through our five business lines: Hospitals, Clinics, Pharmacy and Distribution, Medical Insurance, and Diagnostics. Our well-established network of hospitals and clinics allows a seamless patient treatment pathway from local doctors to multi-profile hospitals and pharmacies, while the Medical Insurance business plays a feeder role in originating and directing patients.

Each business line has its own Chief Operating Officer reporting to the Group CEO. Their largely independent management teams efficiently drive the businesses towards their strategic priorities, pursuing value creation through revenue and profit growth, and asset productivity.

In our highly integrated business model, GHG clinics are often the first point of interaction for attracting patients. The patients who come to our clinics can be referred to our hospitals for treatment or to our pharmacies to fill their prescriptions, if necessary.

In the healthcare services business, our clinics and hospitals are organised in specific geographical clusters to provide medical services and high-quality care to the largest range of patients through:

• polyclinics – offering outpatient services;
• community clinics – offering broader outpatient services and a limited range of inpatient healthcare services; and
• referral hospitals – offering a comprehensive range of complex inpatient and specialist services.

The referral hierarchy within each geographical cluster provides patients with a complete and convenient treatment pathway, from local physicians in polyclinics and community clinics to referral hospitals. Our 70 specialist ambulances help achieve this by facilitating the movement of patients to and between our hospitals. While we provide basic ("primary") medical and surgical procedures at all our facilities, the majority of more specialised or advanced ("secondary" and "tertiary") interventional and surgical procedures are concentrated in our regional referral hospitals.

Our Pharmacy and Distribution business reinforces our strategic goal of having a greater presence across the healthcare ecosystem. Capitalisation on our strong customer loyalty programme and a huge volume of traffic to our pharmacies, help us to develop a lab retail network. We have already opened 16 blood collection points in our pharmacies, and plan to continue the process to arrive at c.100 blood collection points in the coming years.

The e-prescription system, implemented in our pharmacies and polyclinics, also drives additional traffic from our polyclinics to GHG pharmacies, 22 of which are located within our healthcare facilities, ensuring better customer experience. Our Medical Insurance business also plays a feeder role in originating and directing patient traffic to our healthcare facilities. The customers insured by us may also use the services of competitor healthcare facilities. However, we are pleased to see so many patients go for the high-quality services in our outpatient network polyclinics despite having a free choice of providers. The convenience of directly settled claims and co-payment incentives are another reason why our insurance customers prefer to use GHG's hospitals and polyclinics. Our clinics are directly paid by our Medical Insurance business, while patients must pay for and seek reimbursement for most medical care provided by other healthcare facilities.

Our Pharmacy and Distribution and Medical Insurance businesses are synergistic through cross-sales, consolidated discounts and an increasing claims retention ratio within the Group.

Our newly added Diagnostics business is an important separate business line for the Group. In December 2018 we launched new laboratory – Mega Lab, which represents the largest diagnostics laboratory in Georgia and the entire Caucasus region. Mega Lab provides a full set of clinical and pathology tests, some of which are being introduced in the region for the first time. The project is supported by our colleagues from Jordan, "Biolab", a subsidiary of IDH Group, who have many years of experience in this field. Biolab will support Mega Lab in obtaining the highest international healthcare accreditation over the next few years. We have completed the process of centralising the Group's internal lab demand by collecting samples from the Group's hospitals and polyclinics throughout Georgia. Test results are distributed electronically to each hospital and polyclinic within the Group through the internal Laboratory Information Management System ("LIMS"), enabling us to be more efficient and provide a reliable service to our patients, while keeping the test costs low.

Integrated healthcare pathway is further solidified with upgraded digital channels. In May 2020, we completed and launched innovative, independent and fully integrated digital Healthcare platform EKIMO. EKIMO combines all component of primary healthcare: doctors, clinics, radiology units, retail pharmacies and medical insurance. The platform is open for any healthcare provider or health product seller in the country. The platform provides quick and easy access to the entire healthcare ecosystem including appointment to doctors, online payment, online consultation and pharma delivery. As of 31 December 2021 EKIMO had 250,000 downloads, with 150,000 active users and 18,000 monthly paying users who already transacted 5,330 doctors' consultations and GEL 4.7 million online pharmacy sales.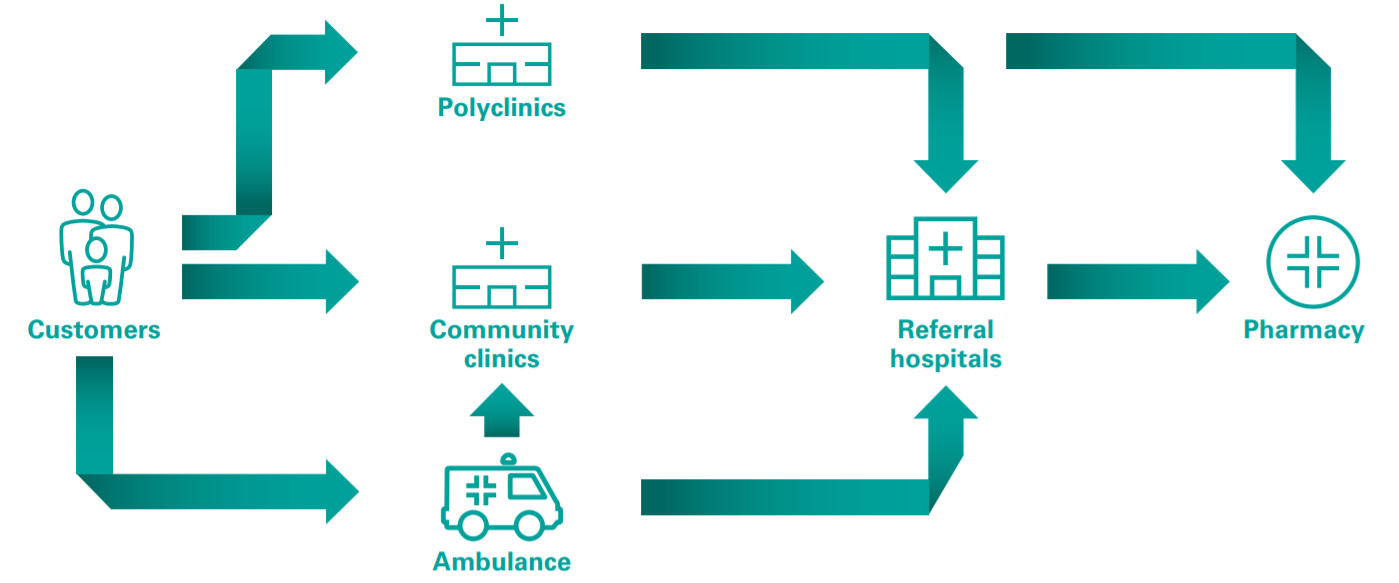 Hospitals
We operate 17 referral hospitals, 15 of which are general hospitals and two are speciality hospitals, with a total of 2,596 beds. These hospitals are located in Tbilisi and major regional cities, and provide secondary or tertiary- level outpatient and inpatient diagnostic, surgical and treatment services.

In 2017 and 2018, the business launched two flagship hospitals, Tbilisi Referral Hospital (TRH) and Caucasus Medical Centre (CMC) completing its hospitals expansion programme announced during the IPO. TRH operates 332 and CMC operates 306 newly renovated beds, where Net Promoter Score (the level of customers' experience and satisfaction) already reached 77%. Both hospitals are located in the capital city and represent the hospitals of choice for high-quality elective medical care country-wide.
Clinics
Our Clinics business incorporates 15 polyclinics and 19 community clinics. Community clinics are located in regional towns and municipalities, and provide outpatient and inpatient diagnostic, basic surgical and treatment services to the local population. For complicated cases, their primary goal is to stabilise the patient and redirect them to the nearest referral hospital for secondary or tertiary care.

Polyclinics are located in Tbilisi and major regional cities, and provide basic and full-scale outpatient diagnostic and treatment services. The business is the market leader by number of registered patients, with c.223,000 registered patients in Tbilisi and c.516,000 in total, as of December 2020). By the end of 2018, we also entered the dental market and started to launch dental clinics within our polyclinics, the service which fits perfectly into our existing business model. The main priority of the Clinics business remains to further increase the base of registered customers, as our polyclinics represent a first point of customer interaction for our overall business.
Pharmacy and distribution
We operate two pharmacy brands, each with a distinct positioning: GPC for the high-end customer segment and Pharmadepot for the mass retail segment. The pharmacies are located in Tbilisi and other major regional cities.
The total number of bills issued at our pharmacies reached 28 million in 2020, making us the country's largest retailer in terms of both the revenue and the number of bills issued. Our scale of operations gives us bargaining power over suppliers to extract procurement synergies, reflected in strong margins. Consequently, it allows us to share these synergies with the local population by providing affordable pricing of key products, as well as with other small pharmacy chains through wholesale business. Furthermore, Pharmacy and Distribution is a pure out-of-pocket business, favourably diversifying the Group's revenue stream.

We are constantly working on improvement of the product mix in our pharmacies, and enhancement of our position in the private label segment. In 2019, the business also entered the beauty retail market by signing a franchise agreement with The Body Shop, a leading British cosmetics, skin care and perfume company, thereby obtaining the right to operate The Body Shop in Georgia for an initial term of ten years. We have already opened two standalone flagship stores in the capital and developed the shop-in-shop model, placing The Body Shop stands in 155 of our pharmacies.

Partnering with an internationally recognised brand, capitalising on its knowledge and experience, will increase our Pharmacy and Distribution business brand awareness and the number of its loyal customers, further contributing to our business growth. Adding The Body Shop brand to our portfolio will upgrade our range of personal care products and further enhance our position on the market.
Medical Insurance
We are the largest medical insurance provider in Georgia, with a wide distribution network. Our Medical Insurance business offers a variety of medical insurance products, with a wide distribution network to the Georgian population. We provide a broad range of comprehensive private medical insurance policies that customers can opt for instead of relying on the coverage provided under the UHC and other State-funded healthcare programmes. Our products are mainly offered as corporate packages to large employers. The business plays an important feeder role for our healthcare services and the Pharmacy and Distribution businesses. We operate 12 branches and service centres within our Medical Insurance business, in a number of cities and towns across Georgia.

We have been adjusting the business model of our Medical Insurance business since 2013, when the UHC was introduced and transformed the landscape. GHG Medical Insurance business is now the largest private payer in the healthcare sector, securing further growth and significant synergies across the Group.
Diagnostics
In December 2018, we opened Mega Laboratory ("Mega Lab"), the largest diagnostics laboratory in Georgia and the entire Caucasus region. The multi-disciplinary laboratory, equipped with the latest infrastructure and state-of-the-art technology, covers 7,500 m2 . High-capacity automated systems enable GHG to provide accurate, high-quality results to the entire population of the country. In addition to basic laboratory tests, the new laboratory allows us to offer complex tests for oncology and molecular lab, some of which have never been available in Georgia, and for which blood samples used to be sent abroad.

As the Group's internal demand covers only one-third of the laboratory's capacity, Mega Lab started to develop a retail network through GHG pharmacies, contracting and serving healthcare facilities outside the Group. The project is supported by our colleagues from Jordan, Biolab, a subsidiary of IDH Group, which has extensive experience in this field.