Our business model
A fully integrated care pathway


Our well-established hospital network allows a seamless patient treatment pathway from local doctors to multi-profile hospitals and pharmacies, while the medical insurance business plays a feeder role in originating and directing patients.

We operate a highly integrated business model, where polyclinics are often the first point of interaction for attracting patients. Patients who come to our polyclinics can be referred to receive treatment in our high-quality hospitals or fill their prescriptions in our pharmacies.
In the healthcare services business, our polyclinics and hospitals are organised in specific geographical clusters to provide services to the broadest range of patients through:
polyclinics - offering outpatient services;
community hospitals - offering broader outpatient and a range of multi-profile inpatient healthcare services; and
referral hospitals - offering a comprehensive range of complex and specialist services.
The referral hierarchy within each geographical cluster provides patients with a complete and convenient treatment pathway, from local physicians in polyclinics and community hospitals to referral hospitals. Our 64 specialist ambulances help achieve this by facilitating the movement of patients to and between our hospitals. While we provide most basic ("primary") medical and surgical procedures at all of our facilities, the majority of more specialised or advanced ("secondary" and "tertiary") interventional and surgical procedures are concentrated at our regional referral hospitals.
Our pharma business solidifies our strategic goal of having a strong presence across the healthcare ecosystem. Following the completion of the two major pharma acquisitions, we became the largest pharmacy chain in the country with a 30% market share. The pharma business helps us grow our polyclinic business, where we hold only a 2% market share. Through its express outpatient clinics (which are integrated in our pharmacies) and strong customer loyalty franchise with over two million monthly customer interactions and 0.5 million members of its loyalty programme, it is expected to drive additional referrals to GHG's polyclinics. Furthermore, the pharma business is a pure out-of-pocket business and it helps us further diversify our revenues. The pharma business strengthens GHG's position as the major purchaser of pharmaceutical products in Georgia. 21 of our pharmacies are located within our healthcare facilities.
Our medical insurance business also plays a feeder role in originating and directing patient traffic to our healthcare facilities. Customers insured by us may also use the services of competitor healthcare facilities. However, we are pleased to see so many patients choose the high-quality services in our outpatient network polyclinics – in the system where they have a free choice of providers. The convenience of directly settled claims and co-payment incentives is another reason why our insurance customers prefer to use GHG's hospitals and polyclinics. Our clinics are directly paid by our medical insurance business while patients must pay for and seek reimbursement for most medical care provided by other healthcare providers. Our pharma and medical insurance businesses are becoming increasingly synergistic through cross-sales, consolidated discounts and an increasing claims retention ratio within the Group.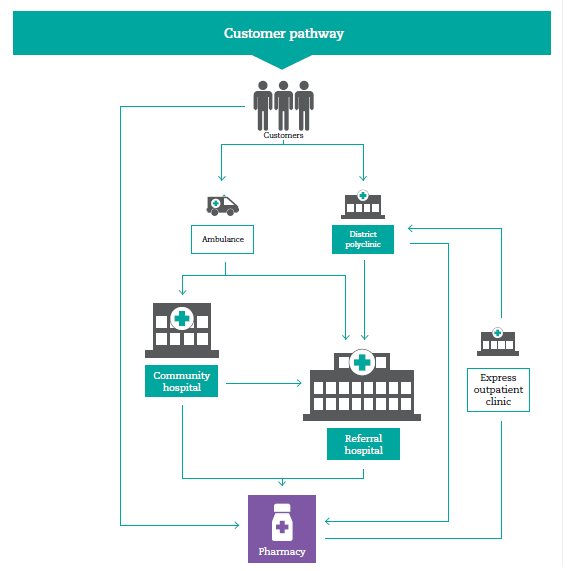 Referral Hospitals
We operate 16 referral hospitals with a total of 2,519 beds. These hospitals are located in Tbilisi and major regional cities and provide secondary or tertiary level outpatient and inpatient diagnostic, surgical and treatment services. Our referral hospitals, which serve as hubs for patients within a given region, had a 64.5% bed utilisation rate (excluding Tbilisi Referral Hospital, which was launched in 2017 and is in a rollout phase) and generated 86% of our total healthcare services revenue in 2017.
Community Hospitals
We operate 21 community hospitals with a total of 495 beds. Community hospitals are located in regional towns and municipalities and provide basic outpatient and inpatient diagnostic, surgical and treatment services to the local population. They also refer patients to referral hospitals for secondary or tertiary level treatment. Our community hospitals had a 26.8% bed utilisation rate, reflecting their role as primary healthcare providers, and generated 8% of our total healthcare services revenue in 2017. The EBITDA margin for our hospitals (both referral and community) in 2017 was 27.4%.
Polyclinics
We operate 12 polyclinic clusters, consisting of 16 district polyclinics and 24 express outpatient clinics. Polyclinics provide basic and full-scale outpatient diagnostic and treatment services. These clinics are located in Tbilisi and major regional cities. Polyclinics generate the highest margin and the management currently believes that this segment of our business will become one of the largest sources of future growth. Polyclinics generated 6% of our total healthcare services revenue in 2017, up from 5% in 2016. Because of the new polyclinic roll-outs, the EBITDA margin stood at 13.2% in 2017.

Organised in clusters: Each cluster includes a district polyclinic, located centrally in a particular district of the city, and several smaller express outpatient clinics (mostly integrated with pharmacies), located in other areas of the same district.
Pharma
GEPHA operates with country's largest retail and wholesale business consisting of 255 pharmacies, 21 of which are located in EVEX healthcare facilities. GEPHA operates with two pharmacy brands positioning each with a strategy: GPC (acquired in May 2016) for the propagating healthy life style and covering higher-end customer segment oriented on the healthy life style - beauty care on one hand and Pharmadepot (acquired in January 2017) for the mass retail segment focusing on patients treatments and applied pharmaceutical care. The pharmacies are located in Tbilisi and other major regional cities. Our pharma business has over two million monthly customer interactions and 0.5 million members of its loyalty programme. The total number of bills issued at our pharmacies exceeded 25 million in 2017, making GEPHA the country's largest retailer in terms of both revenue and number of bills issued. The EBITDA margin for our pharma business was 8.6% in 2017.
Read more about GHG's pharma business ("GEPHA").pdf
Medical Insurance
We are the second largest medical insurance provider in Georgia, with a wide distribution network. We offer a variety of medical insurance products. We had approximately 155,000 persons insured as at January 2018. We offer a wide range of comprehensive private medical insurance policies that customers can opt for instead of relying on the coverage provided under the UHC and other state-funded healthcare programmes. Our products are mainly offered as corporate packages to large employers, while we also have standalone policies for self-paying individuals. We have been adjusting the business model of our medical insurance business since 2013, when UHC was introduced and transformed the landscape. Despite suffering a loss in 2017, the business plays an important feeder role for healthcare services and pharma businesses. Since 2Q17, we have also started implementing new initiatives to adapt to recent changes in the UHC; these were positively reflected in the last two quarters' results, posting positive EBITDA, and we believe that going forward the business will further stabilize its earnings. We operate 13 branches and service centres of our medical insurance business located in a number of cities and towns across Georgia.