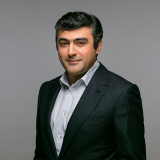 Nikoloz Gamkrelidze
Chief Executive Officer
Nikoloz Gamkrelidze was appointed as Chief Executive Officer on 28 August 2015 and was elected by shareholders at the 2016 AGM and re-elected at the 2017 and 2018 AGMs. He also serves as CEO to JSC GHG and JSC Evex, Deputy Chairman of the Supervisory Board of JSC Evex, and Chairman of the Supervisory Boards of JSC Imedi L and JSC GEPHA.

Skills and experience: Mr Gamkrelidze was Deputy CEO Finance of BGEO Group PLC from October 2012 to December 2014, and CEO of Insurance Company Aldagi (which included the predecessor companies of GHG Group) from 2007 to 2012. Previously Mr Gamkrelidze served as CEO of My Family Clinic from October 2005 to October 2007. Mr Gamkrelidze was a consultant at the Primary Healthcare Development Project (a World Bank Project) and worked on the development of pharmaceutical policy and regulation in Georgia. Before joining the Primary Healthcare Development Project, he was the Head of the Personal Risks Insurance Department at BCI Insurance Company from 2002 to 2003. Mr Gamkrelidze started his career at the Georgian State Medical Insurance Company in 1998, where he worked for two years.

Education: Mr Gamkrelidze graduated from the Tbilisi State Medical University with distinctions, and holds an MA in International Healthcare Management from the Imperial College Business School.